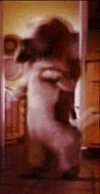 What makes us decide to change? An inspiring role model? A friendly suggestion? A spontaneous aspiration? Sometimes that's all it takes. Usually we require a little push -- and even then we may STILL cling tightly to the familiar, the status quo. Why?

We need more MOTIVATION. Sometimes, change requires more motivation than we HAVE. Fortunately, when life gets stuck in the doldrums, the inner dog can come to our rescue.

Heightened physical desire is a great source of DRIVE AND POWER for change. In the previous section, we noted that sexual awakening brings fresh insight and feeling about what's missing in our lives, as well as revelations about what is problematic in our psychology. It reveals, too, the beauty of our true self nature, which puts us in touch with our own higher visions, higher hopes, and higher standards for what our life truly COULD BE. Mix that all together, and turn up the motivation burner the way desire does, and we have a strong potion for overcoming inertia and inhibition, and producing real change.

More motivation to create circumstantial change

How, exactly, does the inner dog of physical desire fuel our motivation for change? It happens when, for example, desire is high, but there is no social outlet available:

Examples:



I don't have anyone in my bed.

I'm not getting along with my lover.

I don't have anyone to turn to.

Sometimes, when the conditions of our life and relationships seem to preclude the possibility of sexual intimacy, we may feel resigned to our lonely fate. We may be so sleepy, or so jaded, that we think little of it. But just rouse the inner dog, and suddenly the issue rises up mightily in our face -- and we're INSPIRED to CHANGE that state of affairs. We are moved to create for ourselves a context more conducive to the fuller expression of our social potential. We are moved to create opportunities for deeper, more satisfying exchanges of love and energy. Aren't we?

More motivation to make personal changes

But the question remains, what do we really NEED to change to make a more fulfilling life possible? Surely, not all the change we need is EXTERNAL.

We may hate to admit this, but sometimes, the problems in our lives have something to do with US. Luckily, a person who's full of desire, and who's frustrated because the goal is out of sight, is willing to look anywhere for a solution -- EVEN within.

Examples:



My temper pushes people away.

I don't seem to be able to keep a mate. What's WRONG with me, Doctor?

I have a lot of loving inspirations, but I get cold feet and don't act on them. I tend to be a bit of a chicken.
Fortunately, when we are full of desire, we often gain a brighter perspective. We don't just see the "UGLY" better -- we see the BEAUTY better too. The inner dog gives us a taste for a better way of being, along with a boost of energy with which to MANIFEST it. Thanks, Rover!

Motivation choice point: rise up or give up?

The awareness of an undesirable life condition, belief, or behavior -- the pain, the intolerability of it -- moves us to rectify it. And with enough desire, we just might do that! But clearly, change doesn't come AUTOMATICALLY from seeing a need -- it depends on how we RESPOND to what we see. The response factor is crucial -- destiny-determining, even!

Any perceptions of negative conditions can be construed in one of two ways. One, the perception can be construed as motivation to correct the condition. Or, two, we can use the perception to justify the condition itself -- and by so doing, to perpetuate it, however unconsciously. The first type of response is a "corrective response;" the second is a "justification/perpetuation response."

A. Rise up
(to correct the problem)
healthy defiance
responsibility
constructiveness
creative action

B. Give up
(on solving the problem)
depression
displaced responsibility
justification/rationalization
denial
laziness
cowardice
The inner dog can help by inspiring us to create change -- but ONLY if insight is used to build POSITIVE motivation. Unfortunately, insight is often used to justify giving up -- in which case, striving fades, and positive dreams collapse. Here is an example of a justification/perpetuation response:

| | | |
| --- | --- | --- |
| | A guy wants a girlfriend, but then after being turned down a couple of times and getting his pride bruised, he decides its too much trouble pursuing girls. He justifies giving up, saying, "I never really wanted a girlfriend anyway." And, "What do I need with a girlfriend? Having a girlfriend is more trouble than it's worth." | |
When we see the need for change, what will we do? Will we seek victory, or accept defeat? Perhaps we'll rise up in healthy defiance of negative conditions: "I won't have this! I'm going to change it, by golly!" Or, maybe we'll simply accept negative conditions as our "fate."

Either way, we stand to reduce frustration at least somewhat. But there's a big difference between reducing frustration by progressing toward what we desire, and just plain going numb. The constructive response moves us closer to fulfillment; giving up moves us further away from it. In that sense, giving up is not just neutral; it makes matters significantly worse.

| | | | |
| --- | --- | --- | --- |
| | | Don't bother to create passion in yourself if your response to desire will be to give up anyhow. | |
Desire is the prime mover of human life. It pays, therefore, to acknowledge the value of desire, and more than that, to protect desire from the ways we may tend to SABOTAGE it -- either consciously or unconsciously.


All of the ways we sabotage desire share the same goal: to replace desire with something that seems more "comfortable" -- giving up. But in the long run, the inevitable result of giving up -- a life of emotional deprivation and starvation -- is anything but comfortable. So quenching desire is not really a solution to discomfort -- it is just a preference for a different KIND of discomfort. Which do we choose -- the real pain of loneliness and emotional starvation, or the bittersweet tension of constructive desiring? To be honest, the "pain" of constructive, passionate desiring is much LESS -- and the PLEASURE is much MORE.

Q:




Q:


I can be really irritated by my shortcomings and on fire to change one day, and feel complacent about them the next day. What happens to my motivation?
see answer

When I see some of the ways I'm behaving, I hate myself.
see answer

Better motivation, focus, drive, and endurance.

More know power equals more go-power.

We all have wants and dreams, thank God for that! But in and of themselves, wants and dreams can never nourish us -- much less secure the kind of results we most DEEPLY hunger for. For fulfillment, we must WORK. You know: Success IS 10% inspiration, and 90% perspiration! And yet, embarrassing as it may be, we honestly do not always feel like making the effort required to create the life we want.

| | | |
| --- | --- | --- |
| | | |
Here again, the inner dog can save the day. Desire, if raised high enough and sustained long enough, can facilitate our becoming by cutting through our chains of complacency, insecurity, and inhibition. When we break free, the KNOW power of higher consciousness becomes the GO power of creative response. Once it is translated into dynamic, appropriate ACTION, our desire becomes a powerful force for change.

Energy and confidence

Taking action requires two things: energy and self-confidence. Sexual aliveness gives us BOTH.

When we feel confident and energized, we pursue our goals actively -- and we do so with conviction and power, improving the odds for success. A lot of people quit trying because they just plain run out of gas -- or because they know they WILL run out gas before they get much done.


| | | |
| --- | --- | --- |
| | | |

High energy and healthy self-confidence -- with good intentions -- are a match made in heaven. But egotistical self-confidence and selfish motivations are a match made -- well, somewhere OTHER than heaven.

Selfish action may seem to get us what we want, at first. But inevitably, selfish action produces undesirable results. HIGH-POWERED selfish action simply produces MORE undesirable results. Therefore, a person who achieves higher energy states needs higher moral responsibility to go with it.

Passion and enrollment

Another benefit of passion is its appeal to OTHERS. Passion attracts the support of those around us in the achievement of our goals. Enrolling help can be key to success, because one person alone can create or accomplish only so much. Limitations of time and energy make it so.

Also, many of our dreams are SOCIAL dreams. The fulfillment of those goals depends 100% on other people. Fortunately, passionate people find it easy to win friends. Everyone loves to gather around a glowing fire!

The power of passion

We all FEEL the wonderful strength of impassioned people. Passion moves mountains. Without it, we don't know our own strength; we don't have access to our own strength. With it, we're a force to be reckoned with. And when we have passion, we feel not JUST our own strength -- we feel our beauty too. The spirit moves strongly in us to MANIFEST beauty, to LIVE it, and to BE it. That beautiful goal provokes higher power to help fill our sails.

But remember, a single gust of wind is not enough to reach most worthwhile goals. When you want to change, stay in touch with your desire. Contemplate it. Fan it. Keep the fire burning!

The great ones recognize that desire is irrepressible. "Stay hungry," says Arnold Schwarzenegger in his class body-building documentary. Now he's not only the most famous muscleman of all time, he is the biggest box-office draw in Hollywood, a multi-millionaire, AND the Governor of California. What is the secret of all his successes? DESIRE. Constant craving. Desire's the fire that moves us through all the obstacles and the so-called impossibilities of life.

Isn't that beautiful?